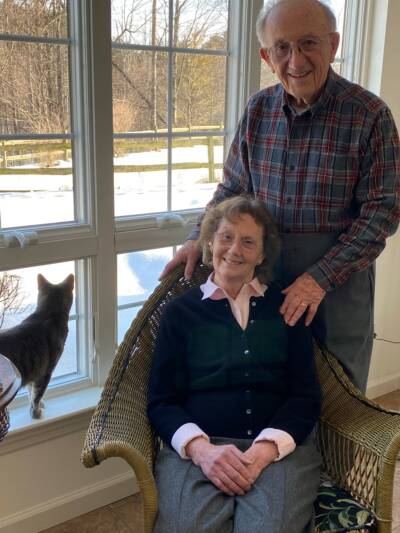 Moving into a senior living community was not at the top of Charlotte and John Kuczyinski's list. Like many retirees, they had dreams of spending the rest of their lives living at home, but they began feeling overwhelmed with the upkeep. 
"We finally admitted we weren't enjoying the peaceful, uncomplicated 'golden years' we were hoping for. We started to think about alternatives," Charlotte said. "One day, we found a flyer in our mailbox inviting us to a seminar at the Masonic Village in Dallas and decided to attend. It was an eye–opener!"  
Charlotte and John were attracted to the emphasis on a healthy senior lifestyle, an agreeable financial arrangement, aesthetics, well-appointed housing and diligent maintenance. Despite these benefits, it was another four to five years before the couple was ready to accept a second invitation to visit the campus. Following the visit, they submitted an application for the Priority Waiting List.   
"Even then, it was not a part of our reality until we received a phone call from the director of sales and marketing [Joy Hubshman] that a villa would shortly become available," Charlotte said. 
It was two years and one month from the time the Kuczyinskis first put their name on the waiting list until they moved in June 2020. They spent those two years preparing for their upcoming move and have some advice for individuals preparing for a similar transition. 
If you haven't already sold your home, prepar
e
 to list it.  
"One of the most important things we did was a home seller's pre-inspection to comply with and update current changes in building codes," Charlotte said. "Not knowing the time frame between our move and the sale of our home, it prevented last minute fault-finding by the buyer."  
Consider consulting a realtor before doing any major renovations to your home in hopes of increasing the value. Sometimes giving buyers a "blank canvas" better enables them to envision the space as their own.  
Start downsizing
"Parting with a lifetime of memorabilia, well-loved furniture, a sailboat, tools, etc., was traumatic," Charlotte said. "We ended up donating many clothes, household items and furniture. Then we hired an auctioneer to empty the two-story garage. It eased our pain and guilt to know someone else might use and love those items, too.
"As painful as it is, downsizing is liberating!"
The sooner you start this process, the easier it will be. It can help to ask friends and family about specific items you're second guessing whether to keep. Try envisioning how you want your future home to look. It may lead you to realize what you don't need from your old one. 
Pack Your Belongings
 You may also consider hiring a moving service that can assist with de-cluttering, as well as packing. Masonic Village staff can also help with tips and advice for making a smooth move, including providing room measurements. They can also recommend local movers.  
Charlotte and John did their own packing during the month prior to their move, labelling each box with the room where it would be placed.         
On the Big Day
In anticipation of your move-in day, Joy will familiarize you with community amenities and services, including dining at the Irem Clubhouse. You'll start receiving communications on campus news and updates.  
On your move-in day, Joy will meet you to hand off the keys. Maintenance staff will be available to help with hanging pictures, curtains, etc., as well as remove boxes. You will have an orientation meeting with her shortly after moving in to ask questions and become acquainted with your new home. 
"Moving day was the light at the end of the tunnel," Charlotte said. "All of the preliminaries regarding financial matters had been meticulously spelled out and completed by Joy before our move. When the movers arrived, the villa was completely accessible and spotless. Keys were provided and the executive director [Noah Davis] poked his head in to make sure everything was going smoothly."         
Enjoy!
All that's left is to enjoy life your way – carefree, maintenance-free and worry-free.  
"We love our villa and its location – six months and it was home!" Charlotte said. "We greatly appreciate the frequent communication from the administration with reminders on how to stay safe in this COVID-19 pandemic. Due to social distancing, we've not yet had the opportunity to make friends, but people here are very friendly and welcoming. It's not unusual to stop and hold a conversation from opposite sides of the road." 
Contact our sales and marketing office to start your journey to moving into a senior living community!